The Right Activewear Picks for Your Body Type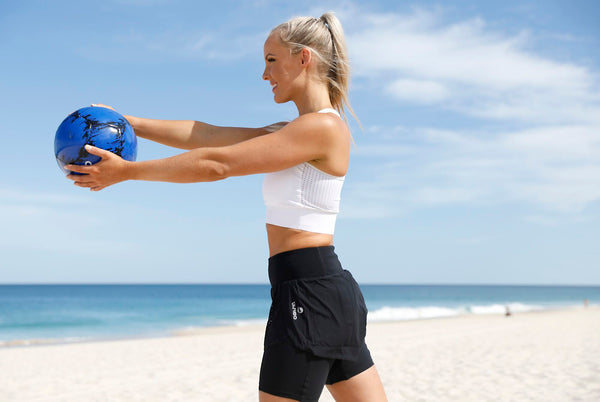 To prepare yourself for the best workout possible, you know what you need to have on hand: enough water to hydrate you before, during and after, solid shoes for whatever type of exercise you're performing, a positive attitude and some quality activewear that fits your body type. We all come in different shapes and sizes, which is why that last one is so important. Workout clothing that is too big, too small or just doesn't fit right will only cause you discomfort and take away from the workout you're trying to accomplish. Not sure what type of activewear is most ideal for your body shape? We're here to help! Scroll through to find out the best activewear picks for every type of figure.

Hourglass
If you have those Monroe's curves, defined by a narrow waist and a hip and bust circumference that almost matches, you'll want to seek out activewear that allows those curves to be free rather than contained. To accentuate curves for both aesthetics and comfort, suggests going with a classic crop top. It shows off your waist in a flattering way, while balancing your bust and hips.
​
Inverted Triangle
If your shoulders are wider than your hips, you might consider yourself a part of this body type. The key to balancing this shape proportionately is color, Stay dark on top with a pop of color detail in the center to visually shrink the shoulders and draw the eye to the center of the body. Go bright on the bottom to create definition and width.

Pear
The very opposite of the inverted triangle is the pear — a smaller bust width and a larger hip circumference. Recommends highlighting this body type with brightly colored or printed sports bra to create the illusion of more of a balance from bust to hips.

Apple
Typical characteristics of an apple body shape are a large bust, narrow hips and a full midsection. Suggests seeking out activewear that allows you to move freely and isn't too constricting around v-neck is a great way to open up the airways for your bust and a nice pop of color and capri-length bottom can draw some attention downwards.


Full Bust
For a full bust, support is key — especially in the bra area. They are super stylish and supportive for running, cross training, yoga and pretty much any other exercise you can think of! The best part is they made really great layering pieces under a racer back tank top.

Petite
Petite is usually described as a smaller frame under 5'3″, but a petite frame can still have a pear, apple, hourglass or straight shape. To flatter the classic petite frame, it's best to find sports bras with thinner straps, as adding bulky straps can make a petite frame look disproportionate." Luckily, most activewear brands offer a petite length in leggings. If you're looking to elongate the appearance of your bottom half, suggests shopping for a legging with a stripe down the side to lengthen the legs and visually add inches to a petite frame.
---